Professional color and tone corrections automatically

With SoftColor software, you can automate color correction, image enhancement, and color management tasks. You will get professional color and tone correction results from any photo.

You can easily tune color correction results for your needs and taste

Luminosity enhancement
Dynamics enhancement
Optimize shadows and highlights
Clarify enhancements
Color cast removing
Natural white balance correction
Exposure correction
Contrast correction
Tone correction
Black and white level optimization


All color correction and photo enhancement tools are layers. You can select suitable correction steps, and you can adjust the correction intensity for each tool.


Sometimes it is not possible to re-take photos. You need to deal with the pictures you have. For those photos, our software will help you a lot.

Easy to use tools for photo enhancement and color management

Automatic Color Correction
Color Management
ToDo List Based Photo Workflow
Batch Processing
Automatic Image Editing Tools and Filters
Work and Convert with Digital Image and RAW Formats


Image editing operations are non-destructive. Image editing tools can be used together with color correction or separately.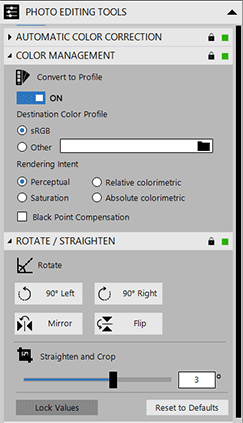 Professional color management tools built-in (RGB, CMYK, Grayscale)

PhotoEQ has full support for standard ICC-profile based color management and it supports embedded profiles.

With PhotoEQ's "Convert to ICC Profile" tool you can select icc-profile which defines target color space for saved images. For example, you can use PhotoEQ to convert RGB images to CMYK images for printing.


If you load multiple files or folders, the first image will be loaded automatically, and rest images are placed to to-do queue.

When you select image from to-do queue, selected image is loaded to the application. You can batch process and save all files from to-do queue by clicking "Batch Save" button. Saved and batch processed images are automatically removed from to-do queue.

You can lock current adjustments for to-do queue processing. Locked adjustments are automatically applied to new images.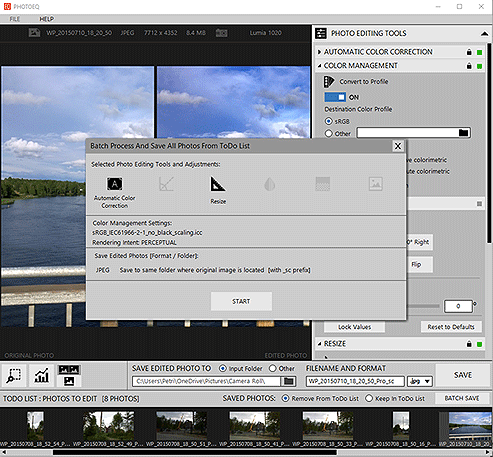 Work with any digital image and camera RAW-formats

PhotoEQ reads multiple digital image and camera RAW- formats.

Following formats are supported:

JPEG ,JPEG2000, TIFF, PSD, PNG, BMP, PGM, PPM, JPEG XR, WEBP

RAW Formats:

.dng, .crw, .cr2, .mrw, .nef, .raf, .orf, .pef, .srf, .arw

PhotoEQ saves edited image to JPEG, TIFF, PNG, BMP and PSD formats.

With PSD format PhotoEQ saves original and edited images into same file as separate layers

PhotoEQ manages embedded EXIF, IPTC and XMP meta-data

Take a test drive with the fully working free trial
Download PhotoEQ for a free, fully working, no-risk trial. PhotoEQ only takes around a minute to download and a few clicks to install. You don't even have to give us your email address.
Download