Professional color and tone corrections automatically
PhotoEQ is a professional photo editing software that can help you bring out the best in your photos.

PhotoEQ lets you quickly tune color correction results to meet your needs and taste. PhotoEQ offers a wide range of powerful color and tone correction tools, including luminosity enhancement, dynamics enhancement, optimization of shadows and highlights, clarification of enhancements, color cast removal, natural white balance correction, exposure correction, contrast correction, tone correction, and black and white level optimization.

These powerful tools are applied as separate layers, giving you complete control over your correction steps and allowing you to adjust the correct intensity for each tool. This means that you can achieve genuinely professional-grade photo enhancements with ease.

PhotoEQ is perfect for professionals who demand the best from their photo editing software. But with its user-friendly interface, it's also accessible and intuitive for amateurs who want to elevate their photography.
Tailor Your Color Correction to Perfection with Ease
We start with luminosity enhancement, which adds brightness and depth to your photos. Dynamics enhancement adds vibrancy and richness to colors, making your images pop. We optimize shadows and highlights to create a perfect balance of light and shadow, and clarify enhancements to bring out the fine details in your photos.

Our color cast removing technique removes any unwanted color tints, while our natural white balance correction ensures accurate color representation. Exposure correction improves the overall exposure of your photos, and contrast correction enhances the contrast between light and dark areas.

We also offer tone correction, which balances the tones in your image, and black and white level optimization, which adjusts the black and white levels for a perfect monochrome effect.

All these color correction and photo enhancement tools are applied as separate layers, allowing you to select the suitable correction steps and adjust the intensity of each tool. Our professional services will transform your photos into works of art.
Save Time and Enhance Your Photos with Ease
We understand that time is precious, which is why we've designed our software with efficiency in mind. Our innovative ToDo List Based Photo Workflow and batch processing features allow you to edit and enhance multiple photos at once, saving you valuable time and effort.

Our automatic image editing tools and filters make it easy to enhance your photos with just a few clicks, while the ability to work with both digital image and RAW formats gives you complete flexibility in your workflow.

But what truly sets our software apart is the non-destructive image editing operations. This means that your original photo stays intact while you perfect your edits, giving you the confidence to experiment and try new techniques without fear of losing your original image.

Our software is designed with professionals in mind, but is also accessible and user-friendly for amateurs who want to elevate their photography. 
Say goodbye to color inconsistencies with PhotoEQ's professional color management tools.
PhotoEQ is built with support for standard ICC-profile based color management in RGB, CMYK, and Grayscale modes. This means that you can achieve accurate color representation across all your devices and output formats.

PhotoEQ also supports embedded profiles, ensuring that your photos retain their intended color representation even when transferred between devices or applications.

With our "Convert to ICC Profile" tool, you have the ability to select the ICC-profile that defines the target color space for saved images. This means that you can use PhotoEQ to convert RGB images to CMYK images for printing, or any other color space that meets your needs.

Our software puts you in control of your color management, giving you the ability to achieve consistent and accurate color representation in all your photos. Say goodbye to color inconsistencies and hello to stunningly accurate photos with PhotoEQ.
Streamline Your Photo Editing Process with Batch Processing
We know that, your time is valuable. That's why we've designed PhotoEQ with batch processing capabilities that will save you time and effort.

With PhotoEQ, you can easily load multiple files or folders and they will be automatically placed in a to-do queue. Simply select an image from the to-do queue to load it into the application and begin your batch processing.

When you're ready to save your processed images, just click the "Batch Save" button and all files in the to-do queue will be saved and processed according to your adjustments. Plus, our software automatically removes saved and processed images from the to-do queue, keeping things organized and clutter-free.

And for those who want to maintain consistency in their batch processing, PhotoEQ allows you to lock your current adjustments for processing in the to-do queue. This means that all new images loaded into the to-do queue will automatically have your locked adjustments applied.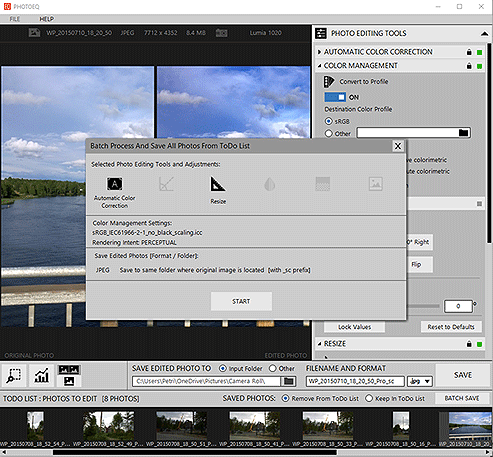 Work with Any Image Format: PhotoEQ's Versatile Solution for Photo Editing
we understand the importance of being able to work with any digital image and camera RAW-formats. That's why our software is designed to read multiple formats, giving you complete flexibility in your workflow.

Our software supports a wide range of digital image formats, including JPEG, JPEG2000, TIFF, PSD, PNG, BMP, PGM, PPM, JPEG XR, and WEBP. And for those who work with RAW formats, we support .dng, .crw, .cr2, .mrw, .nef, .raf, .orf, .pef, .srf, and .arw.

Once you've perfected your photos, our software allows you to save edited images in JPEG, TIFF, PNG, BMP, and PSD formats. And with PSD format, PhotoEQ saves both the original and edited images into the same file as separate layers, giving you complete flexibility to make additional adjustments or changes.

Our software also manages embedded EXIF, IPTC, and XMP metadata, ensuring that your photos retain their relevant data even after editing.