Professional color correction automation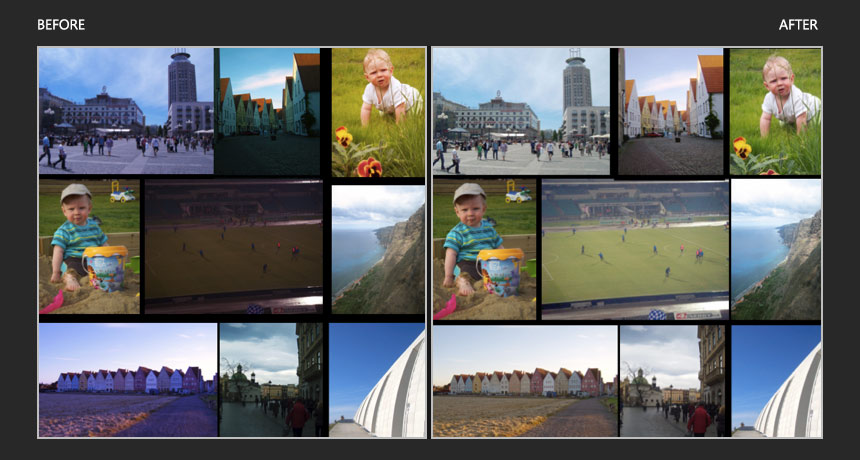 With SoftColor software, you can automate color correction, image enhancement, and color management tasks.

You will get professional color and tone correction results from any photo. With batch processing, you can enhance and unify thousands of images automatically.

The best thing with our photo enhancement automation is that you will fully control all automatic adjustments.

SoftColor Engine is the heart and the brains of Automata Pro, Automata Server, and PhotoEQ applications. It is our in-house developed system to automate advanced color correction, photo enhancement, and image processing. We have built automation technology by mixing color science with computer graphics and machine learning techniques.


SoftColor Engine =
Computer vision + color science + computer graphics + digital signal processing + machine learning


A good photo is a combination of art and science


For us, the most difficult thing to develop photo editing automation is what you will get results that you like. We all have different tastes and requirements for a good photo. You will want a specific color temperature and tones. If you are editing photos for printing, you have limitations with paper and ink.


You will get automatic photo editing results which you like

We have made three helpful solutions for you:

1. Layer based color correction

Luminosity enhancement

Dynamics enhancement

Optimize shadows and highlights

Clarify enhancements

Color cast removing

Natural white balance correction

Exposure correction

Contrast correction

Tone correction

Black and white level optimization

---
2. Same editing settings for you and automation

When our software analyzes the original photo. It returns parameters to all color correction layers. Those are the same parameters you can adjust too. You can set a uniform look for all kinds of photos.

---
3. Editing colors, not pixels

When you need to batch process thousands of photos. You want to get consistent results for all sorts of pictures. Our layer and parameters based processing make this possible. You don't need to focus on pixels. You can control colors and tones.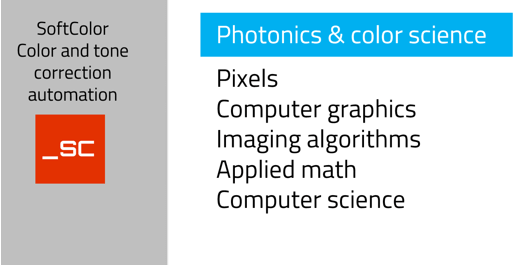 ---

Sometimes it is not possible to re-take photos. You need to deal with the pictures you have. For those photos, our software will help you a lot.


With mixing color science and machine learning to computer graphics techniques. SoftColor Engine can recover challenging photo problems automatically. You will get good results from those photos too.


Everything works on your computer, no internet connection required

All our applications Automata Pro, Automata Server, PhotoEQ, are native Windows applications that run on your computer. No internet connection needed.

We have developed SoftColor Engine with C++, and we use hardware acceleration libraries to enhance performance. You will have tools that run fast, and they use optimal performance on your PCs and servers.

---
Virtual machines friendly software


Fast and resources optimized SoftColor applications work great on virtual machines too. You can run Automata Server on Vmware, Hyper-V virtualization environment.

Optimal performance for cloud virtual machinesYou can easily optimize Automata Server to work cost-efficient on Azure, AWS virtual machines also.


---
Ready to Get Started?


Download a fully working free trials. You will get automated photo editing workflows running in under five minutes.


PhotoEQ 

Version 
10.10.2305
PhotoEQ is the best way to color correct and enhance your photos in seconds.
$69

Download PhotoEQ
Automata Pro

Version 
1.18.2304
Streamline and accelerate your photo editing workflows with AI and hot folder automation in Automata Pro.
$199

Download Automata Pro
Automata Server

Version
 10.20.2304
SoftColor Server is a robust software solution that simplifies and automates photo editing workflows.
$899

Download Automata Server