How to Load Photos to PhotoEQ Application
PhotoEQ reads multiple digital image and camera RAW-formats. You can open and process a single image file or add multiple image files and folders to PhotoEQ's todo queue to wait for processing.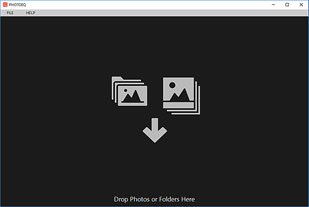 Loading photos is easy. You can just drag files or folders to the PhotoEQ application from Windows Explorer or from other applications.
You can also browse and load image files by clicking "FILE" menu button A. This will open you regular "Open Files" dialog for folder browsing and file selection.
ToDo List
If you load multiple files or folders, the first image will be loaded automatically and rest images are placed to todo list B. When you select image from todo queue, selected image is loaded to the application. You can batch process and save all files from todo queue by clicking "Batch Save" button.
Supported digital image and camera RAW formats
JPEG ,JPEG2000, TIFF, PSD, PNG, BMP,PGM, PPM, JPEG XR, DNG, CRW, CR2, MRW, NEF, RAF, ORF, PEF, SRF, ARW
Supported JPEG color spaces: RGB, GrayScale, YCbCr, CMYK, YCbCrK.
Supported TIFF types: Packbits, JPEG, LZW, CCITT G.3 and G.4, ZIP) with RGB, CMYK, B/W, CIELab